Deep Creek Waterfall Loop includes three beautiful waterfalls that are each very different. It's a great hike for hikers young and old, of any experience level and a must for waterfall lovers. I'm sharing a few things you need to know before you go to make your trip the best.
Deep Creek Waterfall Loop is just a few miles away from Cherokee, North Carolina near Bryson City in the Great Smoky Mountains National Park. It is a very popular and fun day hike. There are three waterfalls you can look forward to seeing: Juney Whank Falls, Tom Branch Falls, and Indian Creek Falls.
Before we get to the tips, here are the basic details about the hike you need to know before you go.
Deep Creek Waterfall Loop
Length: 2.4 miles (loop) Elevation Gain: 450 feet Difficulty: Moderate
Great For: Families, photography, waterfalls!
Location: Great Smoky Mountains National Park near Bryson City, NC
When to Visit: Spring, Summer, and Fall
How We Rate it: 4.5/5, Three waterfalls on one hike is always a win!
How long does it take? 2 – 2.5 hours if you take your time.
Depending on the route you choose (more on that later), you can have a relatively easy, flat hike or a pretty steep climb.
Parking for Deep Creek Waterfall Loop
While there is no fee for entering the Great Smoky Mountains NP, there is a parking pass required to park for more than 15 minutes anywhere in the park. There are several purchase options for the passes, the most convenient if you are only visiting the Deep Creek area is at the Deep Creek Campground Kiosk.
Even though there is a large parking lot, it gets crowded, so you'll want to get there early on weekends and during the summer months.
Waterfalls on the hike
All three waterfalls on this hike feed into Deep Creek at different points. All three are worth hiking to for different reasons. My favorite was Tom Branch Falls and it's the easiest to reach.
Juney Whank Falls – This is the smallest of the three waterfalls on the hike but a picturesque wooden bridge crosses directly in front of the falls.
Tom Branch Falls – This is a classic waterfall. It's tall, beautiful, and flows into a wide section of Deep Creek. Plus, there are a couple of perfectly placed benches to enjoy the view from. You'll like this one a lot.
Indian Creek Falls – Indian Creek Falls is a sliding waterfall that feeds into Deep Creek. It takes a little more effort to reach Indian Creek Falls, which also means there are less people around. You don't want to skip this one if you enjoy solitude.
Tips to know before you hike Deep Creek Waterfall Loop
When we visited Deep Creek I hadn't done much research. I checked how long the hike was and the elevation gain but that was it. Once we started hiking I realized that my cursory research was lacking.
Deep Creek Waterfall Loop is a trail system, not a single loop trail. Because of this there isn't a set route. You can combine different sections of the trail system together to design your own trip. Here are three different ways to create your own hike.
The most efficient route
There are two trailheads for the hike that leave from the parking lot. Take the trail at the edge of the parking lot up to Juney Whank Falls.
After you cross the bridge and enjoy the waterfall, climb the short hill. The trail splits and you want to go right down the steep connector trail.
You'll reach the trail to Tom Branch Falls in short order; turn left and you will be at the waterfall in just a moment.
Tom Branch Falls is awesome; take some time and relax there. Once you're done, head down the trail further and you will eventually reach the spur to Indian Creek Falls.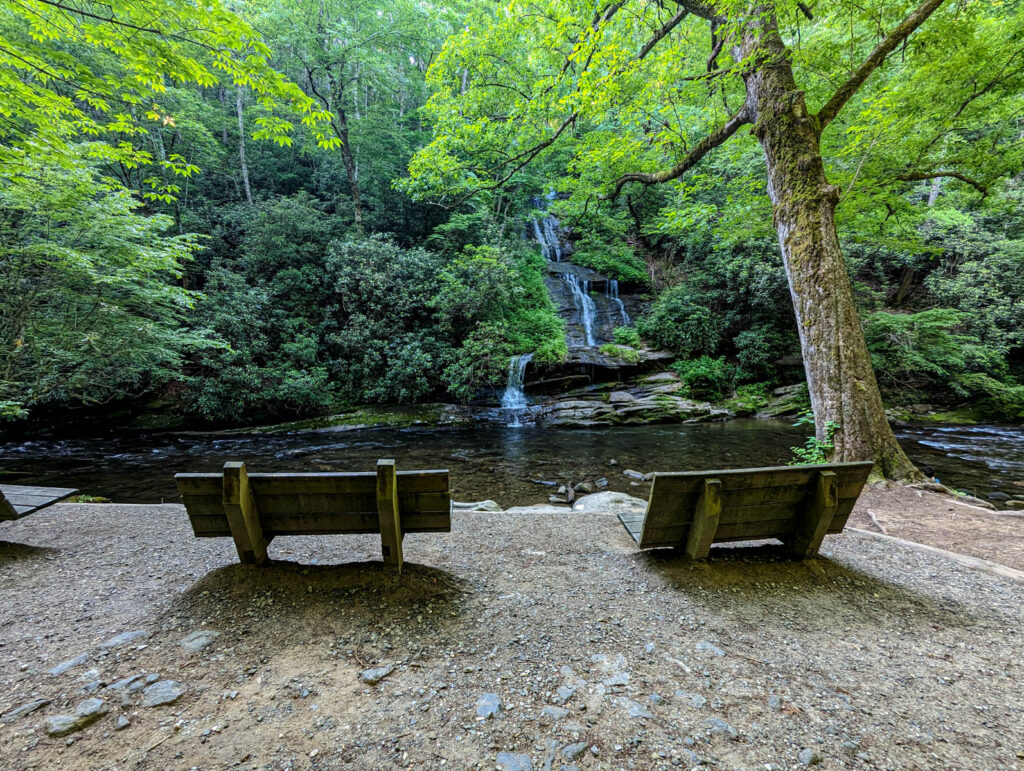 Indian Creek Falls is further away from the viewing area than the other two waterfalls, but it's still an amazing waterfall.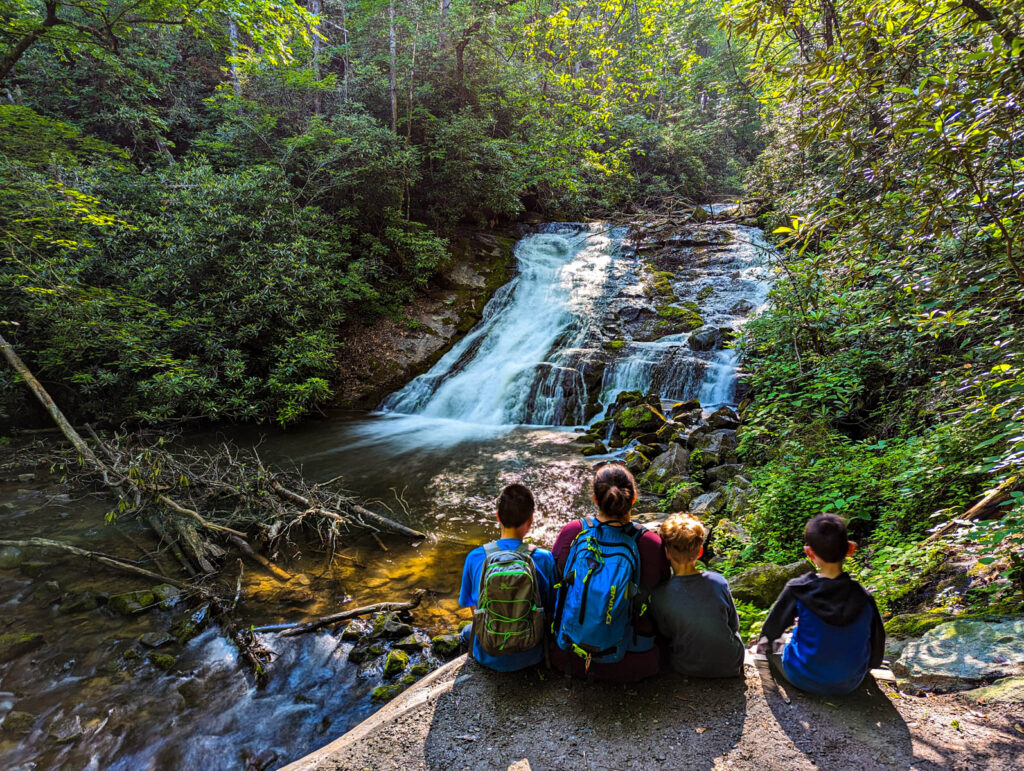 When you decide to head back to the parking lot you have a couple of options. One is to use the Deep Creek Horse Trail and make a true loop out of the hike. If you do so, you'll get to see Juney Whank Falls again but your trip will be a bit steeper and definitely longer.
The easiest way is to take the trail back the way you came, all the way back past Tom Branch Falls and straight to the parking lot. It's mostly flat and you instead get to see Tom Branch Falls again.
The most private route
We visited during the summer, mid week. Even though it wasn't a weekend, there were plenty of people. After we reached Indian Creek Falls and headed back, I split from the rest of my family and hiked the Deep Creek Horse Trail back.
I only passed one small group the entire time I was on the trail. There aren't any waterfalls directly on the trail, but I still really enjoyed the solitude so I could see the trees and think my thoughts.
If you are wanting to have the quietest trip, I would recommend still going to Juney Whank Falls first like above, but then taking the Deep Creek Horse Trail and going to Indian Creek Falls second instead of the connector trail down to Tom Branch Falls.
The trail after Tom Branch Falls gets much less traffic than the section before it. This route maximizes your time away from everyone else.
The easiest route
Most of the elevation gain at Deep Creek Waterfall Loop is when trying to reach Juney Whank Falls. The elevation gain is nothing too terrible if you are a regular hiker, but if you prefer not to hike up, you can still have a great trip.
You will want to begin the trail across from the parking lot and head directly to Tom Branch Falls first, then to Indian Creek Falls. You will be taking an out and back hike instead of a loop. Doing it this way makes for an easy hike, but you miss out on Juney Whank Falls.
Still, Tom Branch Falls is the best of the waterfalls on the loop. And the trail along the path to Tom Branch Falls and Indian Creek Falls follows Deep Creek. It's beautiful in it's own right.
There isn't a 'right' way to hike the loop
No matter how you hike this trail it'll be great. The best or right way to enjoy Deep Creek is the way that fits your type of hiking. Whatever type of hiker you are this is an incredible place to visit.
While you are planning your trip to the Smokies you may want to check out some of the best waterfalls on the Blue Ridge Parkway.