Fall is the most beautiful time of the year in the Blue Ridge but it flies by way too quickly. We'll show you when and where to go so you don't miss anything.
As autumn sets in and the weather cools, I always get excited for the coming change. I love fall days and I really love the way trees explode with color. The week or two when the tree covered mountains of the Blue Ridge shift from green to a cascade of yellows, oranges, and reds is my favorite time of year.
Sadly, the color fades as quickly as it began.
In this post we're sharing everything you need to see the best fall color in the Blue Ridge including why the leaves change, when you can expect the leaves to peak, and the best spots to enjoy the fleeting fall foliage throughout the Smokies, Shenandoah, the Blue Ridge Parkway, and more.
But first, here are a few basics on how it all happens. (If science makes your eyes cross, you can just skip ahead to see where the best leaf peeping spots are.)
Why do leaves change colors
Not all leaves change color.
The leaf change we all covet so much is from deciduous trees. Deciduous is a fancy word that means falls off every year.
In the Blue Ridge Mountains it is usually pretty easy to distinguish which trees are deciduous, even during summer. Typically, a deciduous tree has leaves that are broad and are great at creating a lot of surface area for light to hit.
Why are leaves green?
First, the green color is caused by the chlorophyll, not the leaf itself. Chlorophyll is a pigment that renders energy (sugar) from light. That's photosynthesis in the most simplified definition.
Specifically chlorophyll uses a combination of different light colors or wavelengths from white light, and does not absorb the green light. We see the reflected light that the chlorophyll doesn't consume as a green leaf.
What makes the other colors?
Once the days get shorter and cooler, the chlorophyll breaks down and the other pigments are visible. These other pigments are what create the cascading colors of deciduous forests on autumn days. The most common colors are the oranges and yellows created by carotenoids and less common red coloration created by anthocyanin.
The carotenoids were there all along, with the chlorophyll, converting blue and green spectrum light to energy. The anthocyanin is made during the fall in certain conditions.
The production of anthocyanin is actually believed to act as a "sunscreen" for the leaf. Here is a more detailed explanation of the chemistry behind leaf change if you are interested in nerding out about plants!
The Trees With the Brightest Colors
Anyone that has ever seen a forest wrapped in fall colors knows they are not all the same.
Some trees are brightly colored while others seem to slowly fade from green to brown. For the most dramatic fall colors, you want a variety of bright colors with few dull browns.
While there are many different species of tress in the area, the brightest trees that are common throughout the Blue Ridge Mountains are as follows:
Sugar Maple (yellow to orange fall color)
Red Maple (red fall color)
Hickory (bright yellow fall color)
Yellow Poplar (yellow fall color)
American Beech (yellow to bronze fall color)
Red Oak and Scarlet Oak (red fall color)
Pin Oak and Black Oak (red fall color)
Honey Locust (yellow fall color)
Birch (yellow to gold fall color)
The forests with the greatest number of the above trees create the brightest colors. Fortunately these forests are widely distributed throughout the entire Blue Ridge Mountain region.
Why are Some Falls Prettier than Others?
You've probably noticed that some years the rich green forests become drab brown peaks and others the bright colors seem to linger for weeks. There are a few things that make or break your chances of having an awesome Autumn.
The beginning stages of leaf change are caused by shortening days but other things play a role as well. The changing weather conditions can alter the course of the fall colors.
Temperature
Temperature variation can extend or shorten the fall colors quite a bit. If night temperatures drop below freezing, leaves can fall off early. The tissue that forms between the leaf stem and the branch can get rigid and break before it otherwise would have. On the other hand, bright days warm days and cool but not freezing nights create the brightest red colors because the anthocyanin has the most opportunity to form.
Moisture
If trees are well nourished and there has been plenty of rain, colorful leaves can show up a bit later in the season and stay longer. A few days without rain won't change this, but a dry summer or spring can make for an early, short fall.
Wind
Depending on where you are in the Blue Ridge wind can be an issue for fall colors. Significant changes in temperature cause wind and obviously Autumn is a time with a lot of temperature variability. Generally higher elevations have less protection from wind. That stunning golden peak you saw the day before can completely fade during a windy day.
Ideal Conditions
The years that produce the best colors have a few things in common. A spring that arrives on time, a summer with average rain, and a fall that has bright warm days with cool but not cold nights and a bit of rain. This gives the leaves everything they need for anthocyanin to be produced and for the deep reds to show up. It also allows the carotenoids to convert light to energy and stay in the leaf a bit longer.
When is the best time to see fall colors in the Blue Ridge?
There isn't one simple answer to this question. Obviously Fall, but that is technically September 22nd through December 21st. That's not helpful.
In late September color begins to creep into the leaves in the Northeast, like Maine and Vermont. As the days get shorter the change spreads South. By mid to late November the change is over across the US and the colors have faded to a crunchy brown mess in your yard.
Color peaks in the Blue Ridge between mid October and early November for most areas, with the highest elevations usually changing first and the lowest elevations last.
The high peaks of western North Carolina and Great Smoky Mountains National Park are one of the first locations to change. Many of the mountains are over 4000 feet in elevation and fall colors here begin showing up in early October and peak in mid October.
In mid October, the color change moves down to slightly lower elevations and the trees in Shenandoah National Park and along the ridges of the Blue Ridge Parkway in North Carolina are at their most colorful.
As the month goes on, the color change continues spreading to lower elevations. Near the end of October, areas with lower elevation including much of the Blue Ridge Parkway through Southern Virginia and the valleys of the Smoky Mountains are at peak color.
We live at about 1500 feet in elevation so the brightest colors around us typically stretch into the first couple days of November.
The Best Places to Go to See Fall Foliage
You can see fall foliage pretty much anywhere in the Blue Ridge Mountains, but there are definitely some places that are more beautiful and more colorful than others.
The best places to see really beautiful fall leaves are Great Smoky Mountains National Park, Shenandoah National Park, Grayson Highlands State Recreation Area, and the Blue Ridge Parkway. We're sharing details about the best drives, overlooks, and hikes for fall in each of these places.
One thing you might want to think about is how you enjoy seeing the colors. I like seeing a forest alight with color, but Carrie prefers seeing an individual tree rockin' some fabulous fall foliage.
Great Smoky Mountains National Park (GSMNP)
This is a great place to see fall colors – possibly the best place in all of the Blue Ridge. The elevation between 4000 and 5500 feet along the Newfound Gap Road, before you reach Clingman's Dome, makes it one of the first spots to settle into full bright colors.
You don't need to hike anywhere to find the foliage, although I would have a hard time not hiking at all on a visit.
If you visit later in the season you can still catch the colors at Cades Cove. This a more intimate experience, especially with the historic buildings as a backdrop.
It is best to visit midweek if you want to avoid crowds. If that's not possible, then arrive early. By mid morning Great Smoky Mountains National Park fills up. It took us about 45 minutes just to find somewhere to park at Clingman's Dome on our recent visit.
If you can't arrive early, then manage your expectations before you go and prepare for heavy traffic. That doesn't mean you should avoid visiting, just get yourself mentally prepared so you can still enjoy your trip.
When and Where to See Fall Colors
For early October fall colors, it's hard to beat Clingman's Dome. The forests closest to Clingman's Dome are not deciduous, but the 360 degree view overlooking vast rolling deciduous forests are amazing.
You can access it by the Newfound Gap Road and if you are paying attention you will notice how the colors intensify as you gain elevation.
For late October into November, head to Cades Cove. It sits a little above 1700 feet in elevation and it's a great place to go if you like to really get close to beautiful fall trees.
If you are going to hike, we recommend either Gregory Bald or Laurel Falls.
Gregory Bald is an 11 mile round trip hike so it may not be the best for everyone but once you reach the summit, you have a view of the surrounding mountains and valleys that's unbeatable. Plus, you should have plenty of time alone since the distance will cut out some of the riff raff.
Laurel Falls is a much shorter hike. Round trip it's a bit less than half a mile and you get to see a beautiful waterfall. Be prepared for crowds during the fall. It's best to plan to start early. In fact, you should plan to start early on weekends at all the locations we mention.
Shenandoah National Park
The fall colors in Shenandoah are beautiful and it is another park where you don't need to go far to find them. Simply driving on Skyline Drive will get you to all the fall colors you could want.
Skyline Drive cuts through the middle of the park and stretches 105 miles, end to end. If you are visiting on weekends in October and early November, you can expect some crowding but it shouldn't be as tight as Great Smoky Mountain National Park.
When and Where to See Fall Colors
The highest elevation in Shenandoah is just a bit over 4000 feet. If you want to see peak color, you should plan on visiting mid to late October. By early November the higher elevations will be past peak.
If you love the classic overlapping mountains of the Blue Ridge, you can find overlooks throughout the park. Range View, at mile post 17, is probably the best in the northern section of the park. The Point (milepost 55.5) and Two Run Overlook (milepost 76) are some of the best in the central and southern section.
Hiking in Shenandoah is a great way to enjoy the fall colors. There are so many choices and because of how the park is set up almost everything leaves from Skyline Drive.
For a long, and awesome hike, Old Rag (milepost 46.5) is your destination. At the top you are above the surrounding mountains so you'll have a 360 degree view. Not to mention some of the best rock scrambling in Virginia. The hike is strenuous and you need to reserve a time slot for the hike but it's such an amazing experience.
If you want a shorter but still awesome hike, check out Bearfence Rock Scramble (milepost 56.4). You will still have an amazing view and great rock scramble. At 1.4 miles it's a lot more accessible than the 9 mile Old Rag.
If you aren't up for a rock scramble, head to Black Rock Summit (milepost 84.4). Its an easier hike with it's own amazing overlook. Or, just do both.
One final thing to know is that Shenandoah National Park has an entrance fee of $30, which is much higher than the other spots on this list. If you plan to come to Shenandoah more than once, we recommend purchasing an annual pass for $55 and if you think you'll be visiting any other national parks this year, the American the Beautiful pass is a great deal.
The Blue Ridge Parkway is a 469 mile scenic drive that ties Shenandoah and Great Smoky Mountain National Parks together.
The highest elevation stretches just past 6000 feet and the lowest is just under 700.
The two parks that bookend the parkway are better for truly escaping into the mountains, but they take awhile to get to.
The Blue Ridge Parkway weaves through communities and has many places to enter and exit. It offers the most accessible way to view fall colors.
For the best views in Virginia the drive between Peaks of Otter (mile post 85.6) and the entrance to Shenandoah National Park (mile post 0) is beautiful. It should take about 2 hours to make the drive.
In North Carolina the drive from Blowing Rock (mile post 291.8) to the edge of the Smokies (mile post 469) is a long stretch that is packed with stunning overlooks.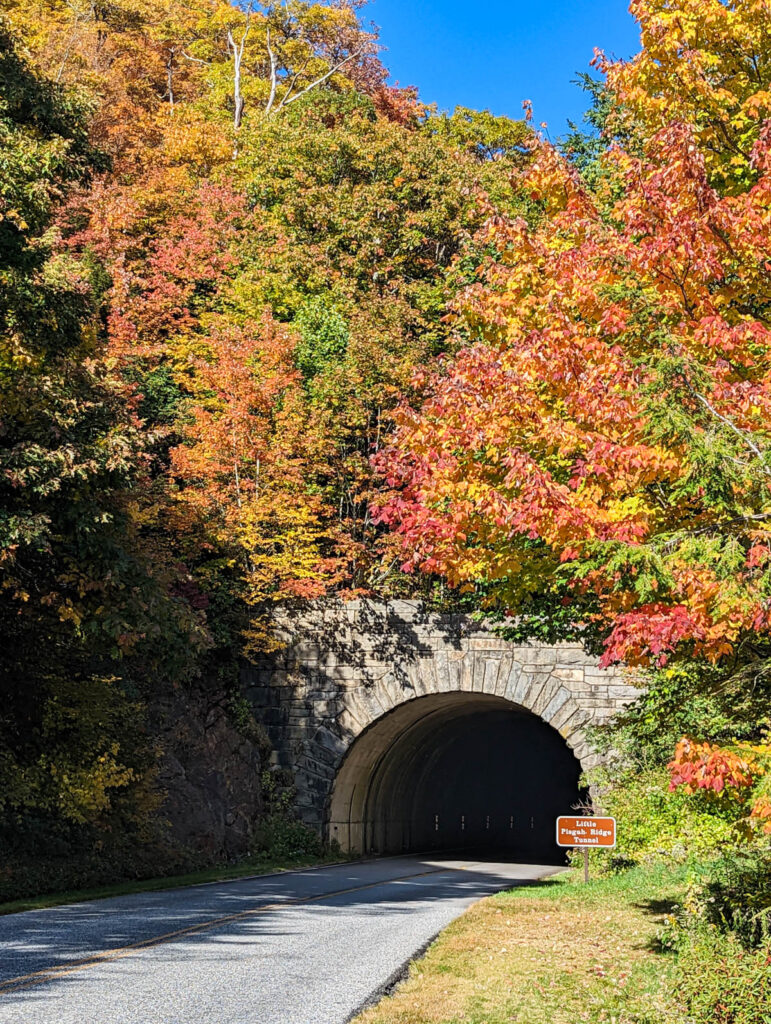 When and Where to See Fall Colors
There are so many beautiful choices on the Parkway, we can't cover them all here. You're sure to find beautiful views almost anywhere you go, but we'll still highlight a few standout sections.
For early season color change (around the second week of October), it's hard to beat Graveyard Fields (mile post 418.8).
Graveyard Fields is about an hour from Asheville and is one of the first spots to reach peak color. If you are getting onto the parkway from Asheville, the whole twenty mile drive is stunning. You can enjoy one of the best waterfalls on the Blue Ridge Parkway and the incredible fall colors all in one great hike.
For mid to late season color, check out the area around the Linn Cove Viaduct (mile post 304.4) in North Carolina. It's the most iconic spot on the entire parkway.
If you go to the Linn Cove Viaduct, it's worth also checking out Rough Ridge (mile post 302.8) – it's a short hike with an amazing view from a rocky outcropping.
You may also want to head to Moses Cone State Park (mile post 295.8). There is a historic home with 25 miles of carriage trails to explore. Another awesome spot is Price Lake (mile post 296.7). The picturesque lake is surrounded by beautiful deciduous trees.
In Virginia head to Raven's Roost Overlook (mile post 10.7) or The Great Valley Overlook (mile post 99.6). Both overlooks stand high above the valleys below. These are great if you want an expansive view of the forests.
If you want to really feel surrounded by fall, head to Mabry Mill (mile post 176) or Peaks of Otter (mile post 86). These are some of the most iconic, and busiest, places on the entire Parkway so come early or mid week if you can.
If you decide to look for fall colors on the Blue Ridge Parkway, you shouldn't encounter too much traffic driving along the road no matter the day. However, the destinations I listed above do get crowded during peak color change so plan on going early.
Grayson Highlands State Park
Grayson Highland State Park is in Southwest Virginia near Marion. It is home to the tallest mountain in Virginia and some amazing views. There are also wild ponies that wander the park boundaries and seeing them is pretty common.
When and Where to See Fall Colors
For peak color you should plan to hit Grayson Highland in mid October. The high elevation makes for cold nights and once the temperature starts dropping below zero, it isn't long before the leaves drop.
Grayson Highland is a park that you really need to get out of your vehicle to enjoy. If you want a full day of hiking, it's hard to beat going to Mt. Rogers. It's about 6 miles to the top and, though strenuous, it's also incredibly beautiful.
Another option is to take the Rhododendron Trail from Massey Gap, then explore some of the areas along the Appalachian Trail. There's a weave of interconnected trails and many of them connect to each other at different points. This is how we usually spend an afternoon at Grayson Highland.
The last spot I'll mention is the homestead area. It has some of the same intimate setting as Cades Cove, though on a much smaller scale. It's a great area for a picnic and you can walk around the old log buildings.
Grayson Highlands State Park has a $7 entrance fee per vehicle. Weekends can be very busy but midweek it doesn't get too crowded.
Which One is the Best?
All of the places named above are spectacular, but I think for the best overall experience it's hard to beat the Blue Ridge Parkway for seeing fall colors.
It's easy to access and you can see the early change along the last 80 miles between Asheville and GSMNP or late color change between Roanoke and Thunder Ridge in Virginia.
These are not the only places to see fall colors in the Blue Ridge. It's just a list of a few of the best.
In reality if you live or visit the Blue Ridge Mountains the last two weeks of October you will be witness to beautiful colors almost everywhere you go. There's a casual beauty here when the color changes that's absolutely breathtaking.