Crabtree Falls is a true gem, one of the most spectacular waterfalls in Virginia. We can't wait to share with you all the reasons why, as well as the different ways to explore and experience its beauty.
Crabtree Falls is unique in that it is the highest vertical drop cascading waterfall east of the Mississippi River, with a total descent of over 1,200 feet.
The trail to Crabtree Falls edges up to the border of the Priest Wilderness and the waterfall features a series of drops and slides along the steep 3.6 mile hike. The leg-scorching climb through dense forest along a swerving trail is worth every switchbacked step.
You don't need to go far at all to start enjoying Crabtree Falls. Within the first few hundred feet, you'll reach your first view of the base of the falls. You could stop here and still have seen a great waterfall overlook.
We once stumbled across a newly wed couple and their assembled friends, still in wedding attire, having photos taken from the first overlook at the powerful waterfall.
From the lower falls it's all waterfall all the way to the top.
Crabtree Falls Hike
Length: 3.6 miles * Elevation Gain: 1130 ft Difficulty: Strenuous
Great For: Photography, families
Location: Near Montebello, VA between St. Mary's Wilderness and Priest Wilderness
How we Rate It: 5/5, It is a great waterfall on a challenging trail.
What to Bring: $3 cash fee for day use and parking.
* We have a shorter option listed below that is only around a mile and a half
Before You Go
Crabtree Falls is a beautiful waterfall and hiking through the forest along the steep rushing waters is sublime – usually.
Weather conditions affect this trail more than most other trails. If there have been recent heavy rains or rain is predicted during your hike, consider rescheduling your trip to Crabtree Falls.
It can be exceptionally muddy and slippery on the trail near the waterfall. If you are going to go anyway, it's a good idea to take some shoes you don't care about.
If you have kids or pets make sure they don't get close to the waterfall, it's powerful and unforgiving. Every couple years someone doesn't respect that and it always ends in tragedy.
Getting to Crabtree Falls
Regardless of how you navigate to Crabtree Falls, part of your drive will be through the beautiful surrounding wilderness. There aren't many areas like this left in the Eastern U.S. so take it in.
The parking area is clearly marked and GPS should be fine getting you to the trailhead.
There is a $3 parking and day use fee that must be paid at an unmonitored pay station as you enter the parking lot, no change is available.
Address: 10636 Crabtree Falls Hwy, Tyro, VA 22976
You will want to download your map before leaving for the hike so you can navigate offline. There is no cell signal in the area.
Hitting Crabtree Falls Trail –
rearrange
Once parked, the trailhead is easy to find and restrooms are available nearby.
Hiking begins on a level asphalt path. The first overlook is only about a tenth of a mile from the trailhead. It is wheelchair accessible and a great spot for photos.
Near this first waterfall view, the unpaved trail to the top branches off from the paved path and the work of climbing begins. The trail is steep in sections, muddy as well, yet it constantly rewards with new overlooks.
Before you reach the top, you'll be treated to Crabtree Falls ten more times.
Every time the trail starts to get tough there are spots where the waterfall invites you to rest and watch.
A rocky cave that tunnels through a split boulder is the halfway point from the first to last waterfall overlook. Our kids love the cave and would probably mutiny if we ever walked past without letting them explore.
The pace of waterfall overlooks slows after the cave. The final waterfall overlook is at mile 1.35 in a cramped bend of the trail. You'll want to take some photos here, it's one of the taller drops along Crabtree Falls.
The trail continues and for those that push beyond, a wide vista of the surrounding mountain wilds awaits. It's stunning and if you've come for the waterfall this is completely unexpected.
Despite being a popular trail, very few people go the extra distance to reach the mountain overlook.
The trail continues beyond to Crabtree Meadows and eventually to the Appalachian Trail. We haven't been to the meadows but would like to at some point. If you go to the meadows and back, your round trip will stretch to six miles.
Deciding How Much of Crabtree Falls to Hike
So, how much of this hike should you do? I think the best way to hike it is going to the mountain overlook, but here is an alternative.
Usually when you hike to a waterfall, you arrive, walk a certain distance and eventually reach the waterfall. Crabtree Falls is a really unique hike because the waterfall is your companion for almost the entire trail.
The waterfall is 1200 feet long but it's not a single drop – there are almost a dozen. You decide how far you want to go and how much of the waterfall you want to see.
If you are unsure about the hike or have a reluctant hiker with you (ours is our middle son), this next section is for you.
Crabtree Falls in a Mile and a Half
For me, the best views of the waterfall are in the first half of the climb up.
There are eight visible waterfall drops in the first 0.7 miles. The eighth is an observation deck where the banks of the waterfall are surrounded by rhododendrons and where the water narrows and slips down the mountain with the rolling mountains just beyond.
It's perfect and a beautiful place to rest on the wooden bench for awhile.
If you have kids, you should really continue past the overlook to the cave. It's a very short distance and they'll love it, you probably will too.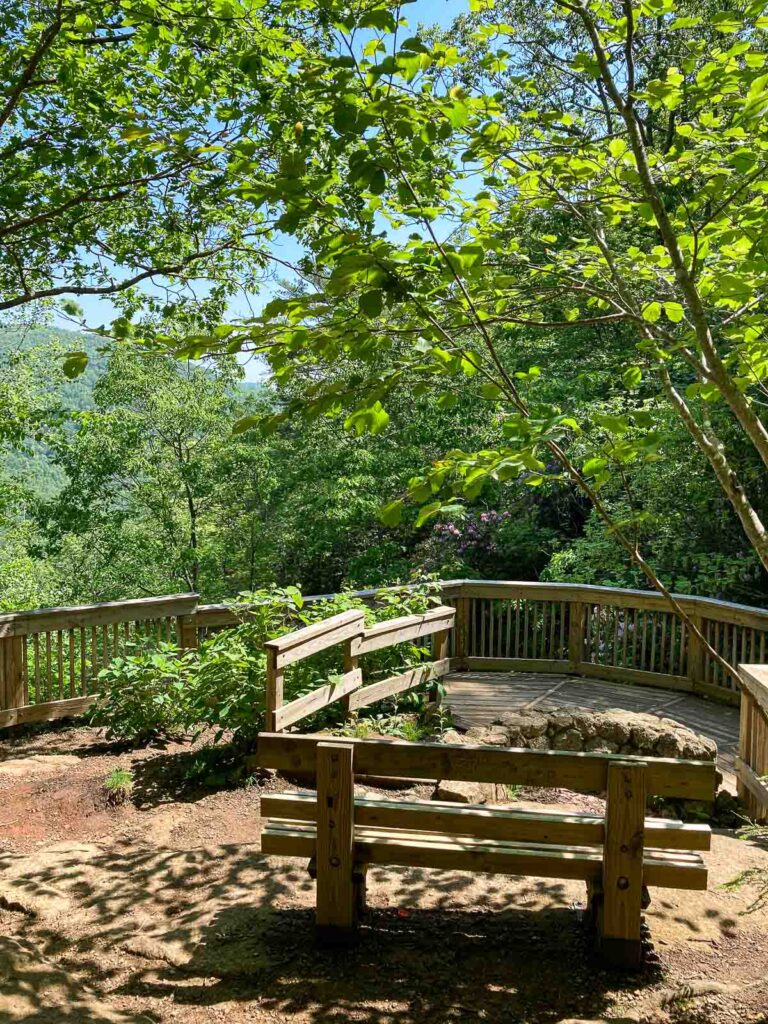 The whole trail is great but if you are new to hiking or have young kids or if you just aren't feeling it for some reason, this is another way to still really enjoy Crabtree Falls. There is no shame in not doing entire trails, you do you.
There are three more waterfall overlooks and the sweeping mountain overlook at the top. The second half of the trip is worth the effort of getting there, but if you aren't up for such a long climb, the shorter hike is still beautiful and memorable.
Making a Weekend of Crabtree Falls
You may live close enough that Crabtree Falls is an easy day trip. But if you're going to have to drive a longer distance or if you want to turn this amazing hike into a weekend, Crabtree Falls Campground is one mile from the trailhead.
Crabtree Falls Campground is arguably one of the best places to camp in the state and is very popular. You will definitely need reservations to stay at the campground and you must make them by phone.
The campground has tent, RV, and cabins available, but the best sites are definitely the tent sites situation along the water's edge.
Rental fees for tent and RV sites are between $35 and $45, in line with most campgrounds and national parks, but cabin rates are very low, starting at $65.
If you wind up staying in the area when it's warm, make sure you also hike to St. Mary's Falls. It's about half an hour from Crabtree Falls in the St. Mary's Wilderness and it's a great family adventure. The hike is a bit less than four and a half miles round trip and you will get wet.
After the Hike
Crabtree Falls is a little out there, but luckily Bold Rock Cidery and Devil's Backbone Brewery are about half an hour from the trailhead. They both have excellent beer and decent menus.
Bold Rock is our choice between the two because it doesn't draw the huge crowds that Devil's Backbone does.
If you have time for another easy hike, check out Blue Ridge Tunnel. Seriously, it's amazing and incredibly unique.
Read our guide to Blue Ridge Tunnel before you go so you know what to bring and what to expect.