Angel's Rest has earned the reputation for being a tough hike, but is it really that hard? Here's what you can expect.
I was excited to hike Angel's Rest when one of my hiking buddies, Darren, agreed to head up with me. I had heard for years how tough it was, but I had never hiked it. Angel's Rest sits as a badge of honor in the area. Sure McAfee Knob is tough but have you hiked Angel's Rest?
My family and I had just returned from a long trip across the western U.S., hiking and camping and seeing all the things. I figured I was in as good a shape as I could be for hiking and decided now was the time for this toughest of hikes.
We were on probably the 10th switchback when the burning in my legs fully set in. I love that feeling.
I saw we were about to hit a steeper section further up the trail. Behind me I could hear Darren breathing heavily. He dropped his pack and leaned against a nearby tree and said he needed a break.
Darren is one of my favorite people to hike with because he doesn't need many breaks. We've powered through many miles together.
I had two realizations at that moment: Hiking at high elevation gets you in really, really good shape and this is a pretty tough trail.
Angel's Rest Hike
Length: 5.5 miles Elevation Gain: 1850 feet Difficulty: Strenuous
Great For: Experienced Hikers *
Location: Pearisburg, Virginia
When to Visit: Any season, avoid during extreme heat
How We Rate It: 3.5/5. This is a good hike if you hike for more than just a view.
* Hikers that have been on several 5+ mile hikes.
Angel's Rest is located in Pearisburg, Va, just a little more than a mile from Main St.
This out and back trail along the Appalachian Trail features two huge views and some surprising rock formations. While it can be tough, slowing down and taking regular breaks makes Angel's Rest much easier.
How to find Angel's Rest Trailhead
Any navigation app should get you to the trailhead, but the parking isn't obvious once you arrive.
There is no parking lot, but there is space for five or six vehicles to pull off the road just past the trail. If there is no space at the first pull off area, there is another just a little further ahead.
Once you've parked, you can find the trail on Cross Ave. A wooden sign directs towards Angel's Rest on the opposite side of the road.
Hiking to Angel's Rest
The trail starts on stone steps and begins your climb. You will be going up for a long time. This is what everyone says about Angel's Rest and it's true.
Even though the hike gains elevation constantly, it isn't steep the entire time. Or at least not too steep.
Along the way you'll wind through dense forest.
An abandoned metal tower is all that remains of the electric lines that once ran through this forest; we almost missed it while we were hiking.
We didn't see any other hidden objects in the forest, but we did notice tons of centipedes on some of the trees.
There weren't any views during the hike up, but it was awesome being in such a dense forest. I felt like I was in the middle of nowhere while we were hiking up, even though we weren't that far from town.
As you near the end of the climb, the trail gets really steep. If you don't like hiking up steep trails, don't worry; the very steep section is short.
Angel's Rest Ridgeline
As the trail levels out, you hit the ridgeline and are greeted with a pair of massive boulders. The trail forks at a trail sign and a narrow spur to the Angel's Rest overlook curves around the boulders.
If you've never done any bouldering, I would skip starting here unless you have someone experienced with you and have brought the proper gear.
The spur to the overlook has a slight decline and was a welcome relief from the steep climb up the mountain. It only takes a couple minutes to reach the overlook and it's a great place to relax for awhile. You've earned it by the time you get here!
The view from under the canopy of rhododendrons hides how wide the view from the top of the rock really is.
The view from Angel's Rest overlook includes a view of the community nestled in the valley below rather than simply unspoiled nature. That doesn't mean it isn't a beautiful overlook, though.
The New River can be seen cutting through the valley to the right. To the left, well, that's Celanese. They make chemicals. Maybe just look at the river.
Once you've finished taking in the view, you can either head back down to your vehicle or continue past the intersection to the Wilburn Valley overlook.
Is the trip to Wilburn Valley Overlook worth it?
From the intersection at the trail sign, the Wilburn Valley Overlook is a little more than half a mile. Adding the second overlook will add a bit more than a mile total, but that section is on the ridgeline and if there is any elevation gain, I didn't notice it.
The trees are not so dense along the ridgeline, so you will have a better view of the sky and a bit of a breeze, that could be great or not depending on the weather. The trail is less traveled, so you may notice some areas with thick grass. A few of these spots were hiding wobbly rocks so be sure to watch your step.
Natural Spring
Along the way to the second overlook, there is a natural spring where you can get some water or take a break. The spring is marked with a sign and is 0.2 miles off the Appalachian Trail and marked by blue blazes.
The spring was about half way to the Wilburn Valley overlook and took about 10 minutes to reach from the turn off to the Angel's Rest spur.
It felt like an oasis with a chattery creek and log bound firepit. We stopped for a little while and had a snack.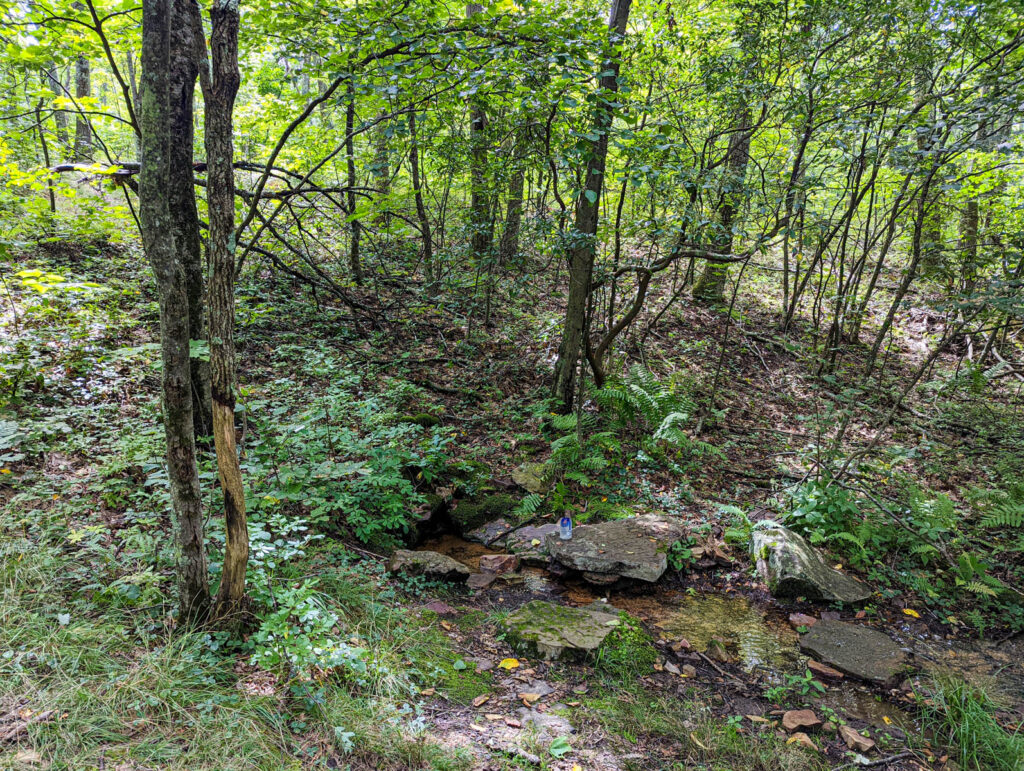 If you are going to get water you should absolutely use a filter.
Wilburn Valley View
As you continue along the ridgeline you will eventually see the view open up. The overlook is marked by a rocky cliff and a single tree.
The view out over the rural community and farmlands is beautiful. I personally liked this overlook more than the one at Angel's Rest.
The hike back to our vehicle from the overlook took us about an hour and by the end our knees were a little angry.
But as much as you may have been huffing puffing on the way up, there will be none of that on the way down.
How Tough was Angel's Rest?
I think that if I hadn't spent the previous weeks hiking at high elevation, I would have been really worn out by the end. Darren struggled a few times but I blame that on him being a good hiking buddy and not telling me to slow down and me being a bad hiking buddy and not checking to see if the pace was good for him.
It's not the toughest hike I've ever been on but I would say it's the toughest hike that is less than 10 miles long in Southwest Virginia. If you regularly hike, the hike will still be hard at a few points. You should be proud of yourself if you hike Angel's Rest.
For beginner hikers this trail isn't really a good place to start. Newer hikers might find a better fit by reading over this list of other great hikes in the area. Any easy or moderate hikes on the list would be a better place to get some miles in before trying Angel's Rest.
After the Hike
If you've gone to both overlooks, you are going to be a bit worn out. We were definitely ready to relax, but even more, we were hungry!
There are several places to eat in Pearisburg but we wound up just going to Dairy Queen for some quick calories.
If we had more time, we would have driven the 10 minutes to Pembroke and gone to Bluegrass BBQ. There's nothing wrong with Dairy Queen but it can't compete with BBQ.
Angel's Rest might not be for everyone, after Carrie read the post she was firm it wasn't for her. If you're like her check out some of these other hikes instead.