This guide to the 15 best hikes near Roanoke includes easy hikes to beautiful waterfalls, tough hikes to iconic mountain views, and some of the best day hikes on the Appalachian Trail.
Roanoke is a beautiful city nestled in the heart of the Blue Ridge Mountains. It's the largest city along the Blue Ridge Parkway and a wonderful place to visit or live.
Between the large municipal parks and the nearby Appalachian Trail, Roanoke is a haven for hikers and outdoor enthusiasts.
We've lived in Roanoke for decades and after spending years hiking all of the best trails in the area, we feel confident that these 15 hikes represent the very best of the area.
Whether you're looking for a peaceful walk in a beautiful setting or a challenging march to a mountaintop, you'll find a great trail here.
Where to find the hikes
This list includes hikes up to a one hour drive from Roanoke, although some are much closer than that.
We created a custom map showing each hike included in this post to make it easy to plan out your day:
To help you find your perfect hike, we've organized this list of hikes from easiest to most difficult and divided them into three sections: easy hikes, moderate hikes, and strenuous hikes.
Read more – 30+ Great Things to Do in Roanoke, VA: Tips from a Local
Easy Hikes
These hikes are great for anyone looking for a shorter, less strenuous hike. They're good for anyone no matter the age or experience level.
Explore Park
Explore Park is located at mile 115 of the Blue Ridge Parkway and there are several interconnecting trails throughout the park that add up to around 14 miles total.
That's not all, though. Explore Park also has a brewery on site as well as a tree top adventure course, tubing, camping sites and cabin rentals. There's definitely enough here to fill a busy weekend!
Our favorite trail at Explore Park is the Riverside Village Hike. This trail takes you through a beautiful meadow among homes, a blacksmith shop, a school, a barn, and a mill from the 18th and 19th centuries. Each of these historic buildings have been relocated here from their original locations in the surrounding area.
There are several spur trails that connect the Village hike down to the Roanoke River below. The overall length is a bit less than a mile so this is a nice trail for young children.
Riverside Village Hike
Length: 0.7 mile loop Difficulty: Easy Elevation Gain: 120 ft
Great For: young children, history, a picnic, relaxing
Location: Explore Park Mile 115 Blue Ridge Parkway
How we rate it: 2.5/5, this is about as relaxing as hiking can get and it's an interesting way to spend a couple hours outdoors.
Roaring Run Falls
This is a family favorite and one of the first trails that all of our children were able to complete. The hike follows the creek up to an aptly named waterfall. The trail gains some elevation but aside from a series of steps there's nothing too strenuous about this hike.
Along the way there are a few spots to hop in the creek if you wanted to cool off. Our kids love splashing around and exploring and there are safe places to do just that before you reach the waterfall. There's also a large natural rock slide that more adventurous people love to slide down.
At the top there is a nice observation area near the falls and during the week you will probably have the waterfall to yourself.
There is also an old iron furnace along the woodland trail near the parking lot. You can find shiny bits of slag peppering the surrounding trail from a time when pig iron was produced here. There's an informational sign that gives a bit of detail about the production of iron and it's a nice spot to teach kids about how difficult things were for previous generations.
Roaring Run Hike
Length: 1.7 miles out and back Difficulty: Easy Elevation Gain: 300 ft
Great For: young children, history, photography, playing in the creek
Location: Eagle Rock area of Botetourt County
How we rate it: 3.5/5, this is a fun easy hike and great for any level of hiking experience
Sawtooth Ridge
This two mile hike leaves from the same parking lot as McAfee's Knob and has it's own beautiful overlook as well as a massive boulder you can climb if you want to challenge yourself.
This is the perfect midweek hike if you need a fix but don't have the time to do McAfee's Knob or Dragon's Tooth. It's easy to complete this hike in under an hour and it's a great spot to find some seclusion since so few people are likely to be on this trail.
One thing to note about Sawtooth Ridge is that it shares a parking lot with McAfee's Knob so you will need to get there early on the weekends if you want to find a parking spot. Midweek parking isn't usually a problem.
Sawtooth Ridge Hike
Length: 2 miles out and back Difficulty: Easy Elevation Gain: 400 ft
Great For: trail running, young kids, pets.
Location: North Roanoke County on Catawba Valley Dr.
How we rate it: 2/5, this isn't an exciting trail but it is a pleasant trail with a fun rock to climb up and relax on at the end.
Stiles Falls
Located about 45 minutes from downtown Roanoke, this short hike takes you through camp Alta Mons to a tumbling 40 foot waterfall. This waterfall is on private property, but the camp is nice enough to open it to the public when they aren't hosting summer camps. Just be sure to check their website before going, because it is closed to the public certain weeks in June and July.
This is a beautiful hike with a few small stream crossings and it's one of the rare hikes near Roanoke that almost never gets crowded.
When you reach the waterfall, you can view it from the edge of the trail or climb over some large rocks to a closer viewing area and even wade in the water near the base of the falls.
If you have kids this is a great hike because the trail is fairly easy and there is a small playground near the trail head where they can expend the rest of their energy.
Stiles Falls Hike
Length: 3 miles out and back Difficulty: Easy Elevation Gain: 330 feet
Great For: Families, pets, young children
Location: Camp Alta Mons, Shawsville, Va
How we rate it: 3/5, this is a pretty easy hike with a nice waterfall at the end. It's especially good if you are trying to ease a child into hiking.
Carvins Cove
Carvins Cove is a beautiful reservoir where you can relax on the water in a kayak or hit the trails on a bike, on horseback, or on foot.
Carvins Cove sits between Roanoke County and Botetourt County, but it's actually a municipal park managed by the City of Roanoke and the Western Virginia Water Authority.
There are almost 60 miles of trails in Carvins Cove that range from easy to strenuous with varying lengths.
One of the more popular hikes in Carvins Cove is the Happy Valley Trail. This gravel trail follows the shores of the crescent shaped cove and is a beautiful place for taking photos or hiking with little ones.
There is no overlook at the end but if you choose to complete the entire trail, it measures a little under seven miles. There's no need to do the entire hike to get the payoff though as you can see the water and surrounding mountains throughout the hike.
There is a $7 parking fee (per vehicle) to park at the main parking lot where you can access the Happy Valley Trail, the boat marina, and the picnic area near the water. If you are interested in other hikes, there are also several other entrances and parking areas that lead to various trails.
Carvins Cove Hiking
Length: 6.7 miles Difficulty: Easy to Moderate Elevation Gain: 1300 ft
Great For: families, young children, mountain biking, trail running
Location: on the border of Roanoke County and Botetourt County
How we rate it: 2/5, it is a pleasant trail and a great place to take a relaxing stroll.
Read More – The Best Peaks of Otter Hikes for Gorgeous Waterfalls, 360 Degree Views, and More
Moderate Hikes
These moderate hikes are a bit longer, with a bit more elevation, but can still be completed in a couple of hours. They're a bit more of a challenge but won't zap your energy. These hikes are great for most kids, but very young children might have a hard time.
Mill Mountain Trail System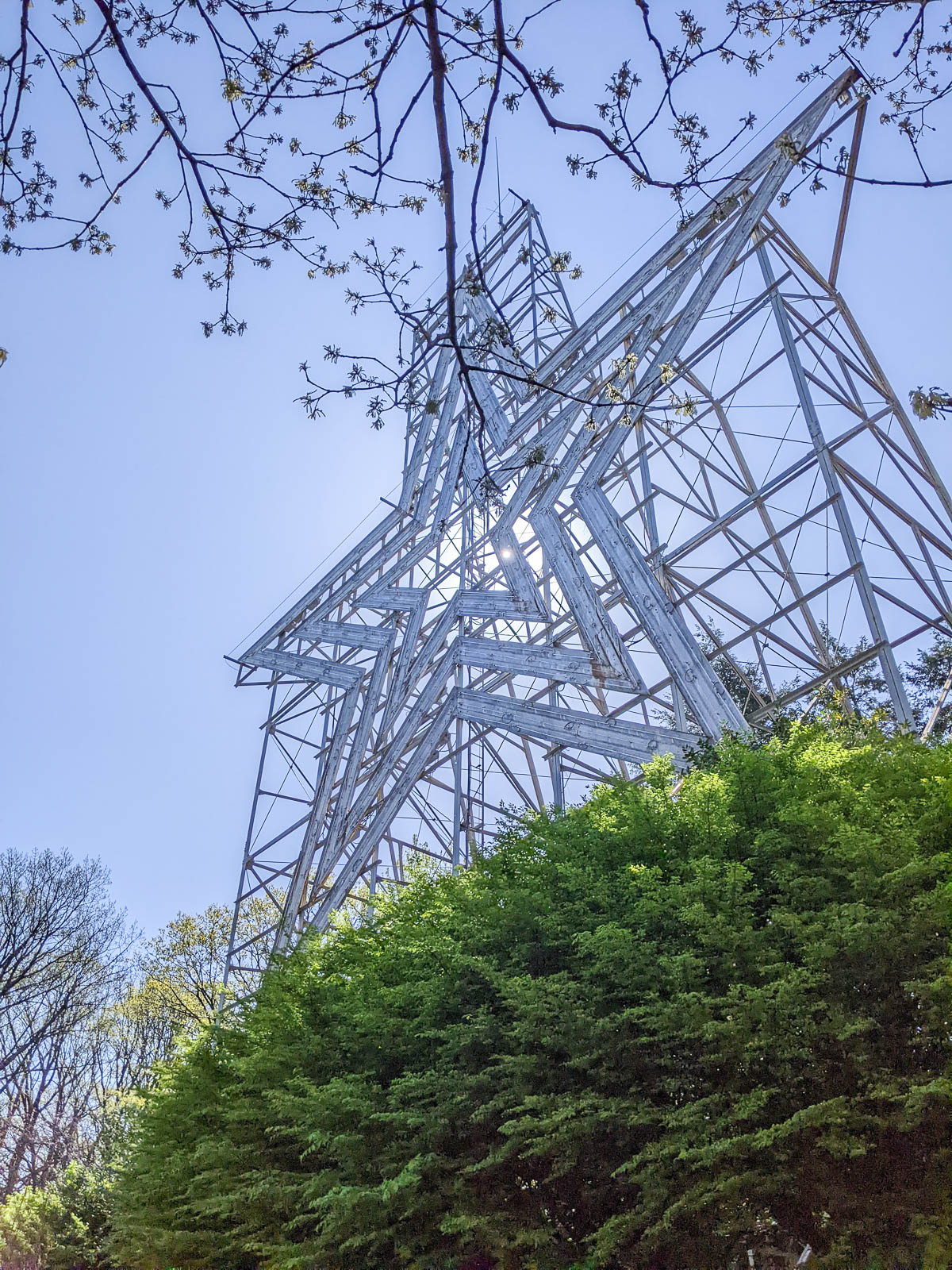 Mill Mountain is a small mountain that sits right in the heart of Roanoke City and can be accessed from downtown Roanoke or from the Blue Ridge Parkway. It's claim to fame is the huge electric star at its peak.
There are almost 13 miles of trail on Mill Mountain and the trail system even connects to the larger greenway system that weaves through the greater Roanoke area.
This is a popular spot for trail runners because of how easy it is to get to and the way different trails connect to each other.
The Star Trail is the most popular trail in the area and leads directly up to the Mill Mountain Star. This medium length trail measures a bit less than four miles and isn't too difficult. The best part of this hike is the gorgeous view overlooking Roanoke and the surrounding mountains you get from the viewing deck beneath the star.
Star Trail
Length: 3.7 miles out and back Difficulty: Moderate Elevation Gain: 800 ft
Great For: trail running, young kids, pets
Location: Mill Mountain Park, near downtown Roanoke
How we rate it: 3/5, This is a fun interesting hike right in the heart of the city
Cascades
This trail in Pembroke is just over an hour from Roanoke, but I had to include it in this list because the 66 foot tall waterfall is something to behold.
The almost 4 mile round trip hike is very pleasant as it follows the creek most of the way. Because of that, this is a very popular hike; expect it to be crowded on nice days in the summer.
There is a swimming hole at the base of the waterfall that is a local favorite. If you happen to be there in the winter on a cold enough day you may get to see the waterfall frozen solid.
If you are up to the challenge of a more difficult hike, you can continue past Cascades Falls and go 2 additional miles to Barney's Wall. It's rare to see anyone else on this trail and the views at the end of the trail overlooking the mountains are beautiful.
Cascades Hike
Length: 3.8 mile loop Difficulty: moderate Elevation Gain: 700 feet
Great For: young kids, pets, swimming, pictures
Location: Pembroke, Virginia
How we rate it: 5/5, this hike is awesome! The waterfall is beautiful and the swimming area is incredible.
Bottom Creek Gorge Preserve
This trail system is home to three distinct trails that can be done as a loop or individually. Each trail offers something different.
The Knight trail follows closely next to Bottom Creek and is the most strenuous of the three. Johnston Trail goes directly to a view of Bent Mountain Falls, the second highest waterfall in Virginia. Duval Trail winds through the forest along the ruins of an old mountain community.
This hike is unique because the three trails are so different from one another. We like to combine all three trails into a large loop to see it all, starting on the Knight trail along the creek, then taking the Johnston spur to the waterfall overlook, and returning on the Duval trial.
The parking lot here is little more than a few spots to pull off at the end of the road so it may be difficult to find parking on nice weekends, but it shouldn't be too much of a problem if you arrive early.
Bottom Creek Gorge Loop
Length: 4.7 mile loop Difficulty: Moderate Elevation Gain: 850 ft
Great For: Photography, history, families
Location: Shawsville, Va via Bent Mountain
How we rate it: 3.5/5, this is a waterfall hike that offers a lot more than just a waterfall.
Hay Rock
The Hay Rock hike follows the Appalachian Trail up Tinker Mountain and skirts around Carvins Cove. This 7.7 mile out and back hike leads to beautiful views of the Carvins Cove Reservoir and eventually arrives at a boulder with "hay" spray painted all over it.
If you are feeling extra ambitious, you can connect Hay Rock to Tinker Cliffs and McAfee's Knob for an amazing 20 mile hike. Just be sure to have a ride back from the McAfee's Knob parking lot to your vehicle at the Hay Rock parking area.
Despite the near 8 mile distance, this hike is easier than you would think. The climb up to the ridge line is a bit intense, but from then on you, are hiking along the mountaintops so the elevation change isn't that extreme.
Pay attention to the weather before you go on this hike. The temperature drops considerably on the ridge because of the wind so don't be surprised if it feels 10 – 15 degrees cooler at the top.
Hay Rock Hike
Length: 7.7 miles out and back Difficulty: moderate Elevation Gain: 1400
Great For: day hikes, families, pets, beautiful views and photos
Location: Alt Hwy 220 near Daleville.
How we rate it: 3.5/5, the view of Carvin's Cove is great and once you reach the ridge line the difficulty goes down quiet a bit.
Read More – Exploring Peaks of Otter: One of the Best Stops on the Blue Ridge Parkway
Strenuous Hikes
These strenuous hikes include more difficult terrain, steep elevation gains, and slightly higher mileage. Each of these hikes can still be completed easily as a day hike by most people that are fairly active. Be sure to wear appropriate hiking footwear as some of these trails are very rocky and steep.
Sharp Top
This steep hike is the most famous of the hikes at the Peaks of Otter, and has the best view from the top.
The round trip is only about 3 miles, but you will be ascending more than 1200 ft over 1.5 miles so expect a heart pounding trek up. Once at the top, you'll get to enjoy a phenomenal 360 degree view of Peaks of Otter Lake and the surrounding mountains.
If for some reason you feel unable to hike up to the top, there is also a shuttle that will take you up most of the way and you can avoid the steep climb.
If you take the shuttle, you will still have a short hike to the overlook so come prepared with appropriate clothing and footwear.
Get all the details in our Sharp Top Hiking Guide.
If you are going to hike here, you should also take the trail around Abbot Lake, the lake at Peaks of Otter. It's not a true hike but it is very relaxing and there are several pretty spots to sit and look out over the water.
Sharp Top Hike
Length: 3.3 miles out and back Difficulty: Strenuous Elevation Gain: 1250 ft
Great For: Amazing views, children, pets.
Location: Blue Ridge Parkway Mile 86 (Peaks of Otter)
How we rate it: 4/5, the views are amazing but be prepared to sweat on the way up.
McAfee Knob
If you love hiking, you have probably seen a picture of someone standing on McAfee Knob looking out at the surrounding mountains. This strenuous hike rewards those that reach the top to a magnificent overlook created by a massive rock platform jutting off the side of the mountain.
Definitely bring your camera for this hike. I've been to McAfee Knob in every season and it's always exceptionally beautiful.
There are two established camping shelters on the hike so its possible to stay at one of the shelters and easily catch a sunset or sunrise from the cliff without rushing through the hike.
This is a very popular hike and parking on the weekend is almost always an issue. Definitely do NOT park on the road, your car WILL be towed. There are a couple of additional parking lots available further from the trailhead that increase the total length of the hike to ten miles roundtrip.
Your best bet is to hike this trail on a weekday or arrive early to beat the crowd.
Get all the details in our McAfee Knob Hiking Guide.
McAfee Knob Hike
Length: 7.8 miles out and back Difficulty: Strenuous Elevation Gain: 1800
Great For: day hikes, mountain views, amazing photos, families.
Location: North Roanoke County on Catawba Valley Dr.
How we rate it: 5/5, It's popular for a reason. The view from the top is stunning.
Dragon's Tooth
This less traveled trail is a mere four miles from the McAfee's Knob trail. While this trail doesn't receive as much attention as McAfee's it is much more fun and challenging to complete.
The lower section is a steady climb upward, but once the trail connects to the Appalachian Trail, the terrain shifts and you will be scrambling over rocks and at one point climbing up a rock face.
Dragon's Tooth is my personal favorite on this list because of how much fun it is, but don't let the shorter distance fool you, the technical section will leave you gasping for breath.
I wouldn't plan on bringing a dog or a small child on this hike unless you have read our full guide to Dragon's Tooth for a more in-depth look at the unique challenges of this trail.
Get all the details in our Dragon's Tooth Hiking Guide.
Dragon's Tooth Hike
Length: 4.8 miles out and back Difficulty: Strenuous Elevation Gain: 1230
Great For: day hikes, trail running (on the lower section), rock scrambling, mountain views
Location: Northern Roanoke County on Catawba Valley Dr past McAfee's Knob.
How we rate it: 4/5, the view at the top doesn't compare to McAfee's Knob but the trail experience is the real treat here.
* Special Notes: Pets will not be able to climb one of the obstacles and children will need substantial assistance.
Tinker Cliffs via Andy Layne Trail
While this is a tough hike, there's a huge payoff at the top. Instead of one small overlook, you get to walk along the cliffs overlooking the mountains for quite awhile. This is also a great hike for when you want to get away from the crowds on more popular trails.
Tinker cliffs can be accessed by the Andy Layne trail or from McAfee's Knob since both are on the Appalachian Trail. Hiking to Tinker Cliffs from McAfee's Knob increases the distance considerably, but the climb up to McAfee's Knob is the most difficult part.
If you decide to hike up the Andy Layne trail be prepared for a tough climb along the 7.5 mile out and back trail.
McAfee's Knob, Dragon's Tooth, and Tinker Cliffs make up the Virginia Triple Crown hike. The overall distance if you decide to do all three is nearly 40 miles and many people travel here to do just that.
Tinker Cliffs sees just a fraction of the traffic of Dragon's Tooth and McAfee's Knob. Of the three hikes, Tinker Cliffs is definitely the most strenuous in my opinion because of the elevation gain. The out and back trail relentlessly climbs up the mountain through a series of switch backs.
The view from the top rivals McAfee's Knob and the sense of accomplishment after completing it is great.
Tinker Cliffs Hike
Length: 7.5 miles out and back Difficulty: Strenuous Elevation Gain: 1950
Great For: day hikes, a hard challenge, mountain views
Location: Catawba area in Botetourt County
How we rate it: 4/5, the view from the top is similar to McAfee's Knob but the effort to reach the top is higher.
Devil's Marbleyard
Devil's Marbleyard gets its name from the 8 acre boulder field that makes this hike a one-of-a-kind challenge. If you enjoy rock scrambling this is definitely a place you do not want to miss.
Be prepared to climb, a lot. There are even opportunities to do some bouldering if you decide to, though you can avoid the more difficult climbing by taking a different route.
Probably the most unique thing about this rock scramble is that there is no established trail on the actual boulder field. The difficulty is really determined by your creativity.
If you are going to climb the boulder field, you should come prepared with plenty of water and a first aid kit. There is no canopy on the rock scramble and it can be quite hot during the summer.
Also wear shoes with a grippy sole. I had my foot slip once on a boulder and had to get my shin stitched up when I made it back to town. Luckily I had gauze and a compression bandage.
This isn't a great hike for small dogs or small children. In fact, this is one of the only hikes on this list we haven't brought our kids to yet. Kids are often great climbers, but parts of the boulder field require longer legs.
The final thing I'll say about this hike is that you should not climb into the boulder field during rain, snow, or thunderstorms or if there has been recent rain or ice. Wet footing can turn the rock scramble from a fun challenge to a dangerous one very quickly.
Devil's Marbleyard Hike
Length: 3.2 miles out and back Difficulty: Strenuous Elevation Gain: 1400 feet
Great For: Adventure, rock scrambling, interesting hikes
Location: Belfast trail near Natural Bridge
How we rate it: 5/5, this one is unique. There aren't many places like this anywhere around here and if you are up for the rock scramble, it's a must do.
* Special Notes: You need to bring a First Aid Kit and more water than you normally would for this hike if you are doing the rock scrambling section. Also I would caution against doing it alone unless you are experienced with climbing and rock scrambles.
Read More – Blue Ridge Tunnel: A One-of-a-Kind Hiking and Biking Experience
Other walking paths
Greenways
The Roanoke Valley Greenway system incorporates multiple paved and unpaved trails throughout the Roanoke area. All together it's close to 400 miles including Carvins Cove, Mill Mountain, and Explore Park.
The eventual goal is to have a completely connected trail and they are nearly there.
One of our favorite ways to enjoy the Greenway is to park near Rivers Edge park and let our kids play at the playground before walking to Blue Cow ice cream, which is connected to the Greenway, for a delicious treat.
The Top hike near Roanoke
There are so many great hikes around Roanoke and this list hasn't even covered them all, so choosing just one is tough.
If you only have time to do one hike on the list and you're up for a longer hike, you can't miss McAfee Knob. If you have the opportunity to do more, I'd choose Dragon's Tooth or Hay Rock next. They really give you a sense of what the area has to offer.
But you really can't go wrong with any of the hikes on the list – they all give you the chance to get outside and experience more of this beautiful area.