Roanoke, VA is a small city with a vibrant historic downtown that is surrounded by beautiful mountains, plenty of outdoor activities, local festivals, and family-friendly activities.
Roanoke is the largest city on the Blue Ridge Parkway. It's nestled in a beautiful green valley surrounded on all sides by the Blue Ridge mountains.
Whether you are looking for outdoor adventure or would rather do your exploring in the city, this is a great place to both live and visit.
Roanoke is a place that is close to my heart. I grew up in Roanoke and I've chosen to make my home here as an adult too because of all it has to offer. And after many, many weekends of exploring this area, I'm excited to share all of the best things to do on a beautiful day in Roanoke.
Explore Downtown Roanoke
One of my favorite parts of Roanoke is the vibrant historic downtown area.
Roanoke's beautiful downtown is the perfect size to explore in an afternoon – large enough to have plenty to do but small enough that it isn't overwhelming or overtaken by huge office buildings.
Farmers Market
The historic Roanoke's farmers market has been a staple of the area since 1882 and is the longest continuously operating open air market in Virginia.
You'll find vendors set up all along Market Street. It's a beautiful spot to stroll under the shade awnings and check out the locally grown fruits and vegetables, fresh baked goods, fresh flowers, and arts and crafts for sale.
There are usually a few vendors set up every day, but Saturday mornings are the best time to visit the market for the widest variety of goods.
At the end of Market Street, you'll also see the old historic Market Building which used to host part of the farmer's market indoors.
It's now home to a great collection of small restaurants and an indoor food court if you're looking for a spot to grab a quick meal.
Center in the Square
Center in the Square is right across from the Market building and it is home to a huge variety of fun places to visit.
On the ground floor, there are several large aquariums filled with tropical fish, jellyfish, and turtles that anyone can stop in to see for free. You can also head up to the roof to see the koi pond as well as a nice view overlooking downtown.
Center in the Square is also home to a whole collection of fun museums. The Roanoke Pinball Museum and the Roanoke Starcade are filled with both classic and new arcade games you can play.
The Science Museum is a fun museum for families with a touch tank and parakeet garden as well as all kinds of interactive science exhibits. If you have young children, they will also love playing and exploring at The Children's Museum.
And the Harrison Museum of African American Culture is a great place to learn about the experience of African Americans in the Roanoke Valley.
Taubman Art Museum
Just a short walk away is the Taubman Museum of Art. The art museum lives in a very distinctive metal building with all kinds of angles and curves that you can't miss.
What's awesome about this museum is most of the exhibits are completely free. There are a few permanent collections as well as an always changing rotation of visiting exhibits and most of the collections are unique and interesting even if you aren't into classical art.
Shops and Restaurants
There are also plenty of cute shops and delicious restaurants to check out as you stroll around the downtown. There are unique women's clothing boutiques, gift boutiques, art galleries, outdoor outfitters and shops full of vintage and handmade items.
One of my favorite stops is locally-owned Chocolate Paper which is filled with a combination of fun gifts and delicious chocolates. Mast General Store is also a fun place to do some browsing with a huge variety of clothing, toys, outdoor goods, and candy. Most of these shops are centered around Market street and the connecting streets.
There are also plenty of delicious locally-owned restaurants throughout the downtown area, whether you're looking for something quick, cheap, and delicious or something a bit fancier for a night out.
Scrambled (located in the historic Market building) is an awesome choice for breakfast specializing in egg scrambles and delicious french toast. And I love On the Rise, a local bakery that has delicious breakfast pizzas as well as paninis and homemade soups.
If you want a quick slice of pizza, you can't go wrong with one of the huge slices at Benny Marconi's. And a few blocks away, Texas Tavern is a fun stop. It's a classic 10 stool diner that's been serving the same chili dogs and burgers since 1930.
If you're looking for something a bit nicer, you might want to check out Billy's, Fortunato or Table 50 for a great atmosphere and delicious food.
Breweries
Over the last several years, some great local breweries have also popped up downtown. Five breweries are within walking distance of the market including Olde Salem and Three Notch'd which serve as bookends to Market St.
Our favorite Roanoke brewery, Starr Hill, is a five minute drive from downtown. Many Friday and Saturday evenings, you can find a local musicians playing on the small stage. You can check the calendar here. Whatever your taste, one of the local breweries is sure to be a perfect fit.
Elmwood Park
A short walk from Market Street, you'll find Elmwood Park, a large park with a small outdoor amphitheater, plenty of green space and benches to relax, and a sculpture garden.
There's a cute Peter Pan themed playground on the hill with a small section of boulders right next to it that kids love to climb on. And in the summer there are water spouts right in front of the amphitheater stage where kids can run and splash in the water.
There are often concerts and festivals in Elmwood park on summer weekends and there is an outdoor ice skating rink set up in winter. You can check this calendar to find all the upcoming special events in the area. Some of the most popular are Festival in the Park every Memorial Day weekend, Local Colors Festival in May, and GO Fest every fall.
And if you find yourself ready for a treat after a visit to the park, you can head across the street to Rookies for handmade ice cream sandwiches in all kinds of delicious flavors.
Getting Around
The easiest way to see downtown Roanoke is to park and explore on foot.
There is also a great free trolley that makes a continuous loop throughout the downtown area. The trolley is super fun for kids to ride and is also a great way to get around if you aren't up for a lot of walking. Just hop on and off at any of the stops, no tickets needed.
There are several public (paid) parking garages throughout the downtown area, including a super convenient parking garage right next to Center in the Square along with plenty of street parking.
Read More – The 15 Best Hikes near Roanoke, VA
Mill Mountain Star and Zoo
After checking out downtown Roanoke, it's just a short drive to visit the Mill Mountain Star. Roanoke is one of very few cities to have a small mountain, Mill Mountain, right in the center of the city.
Mill Mountain's real claim to fame though is the huge 88.5 ft tall electric star that sits on its peak.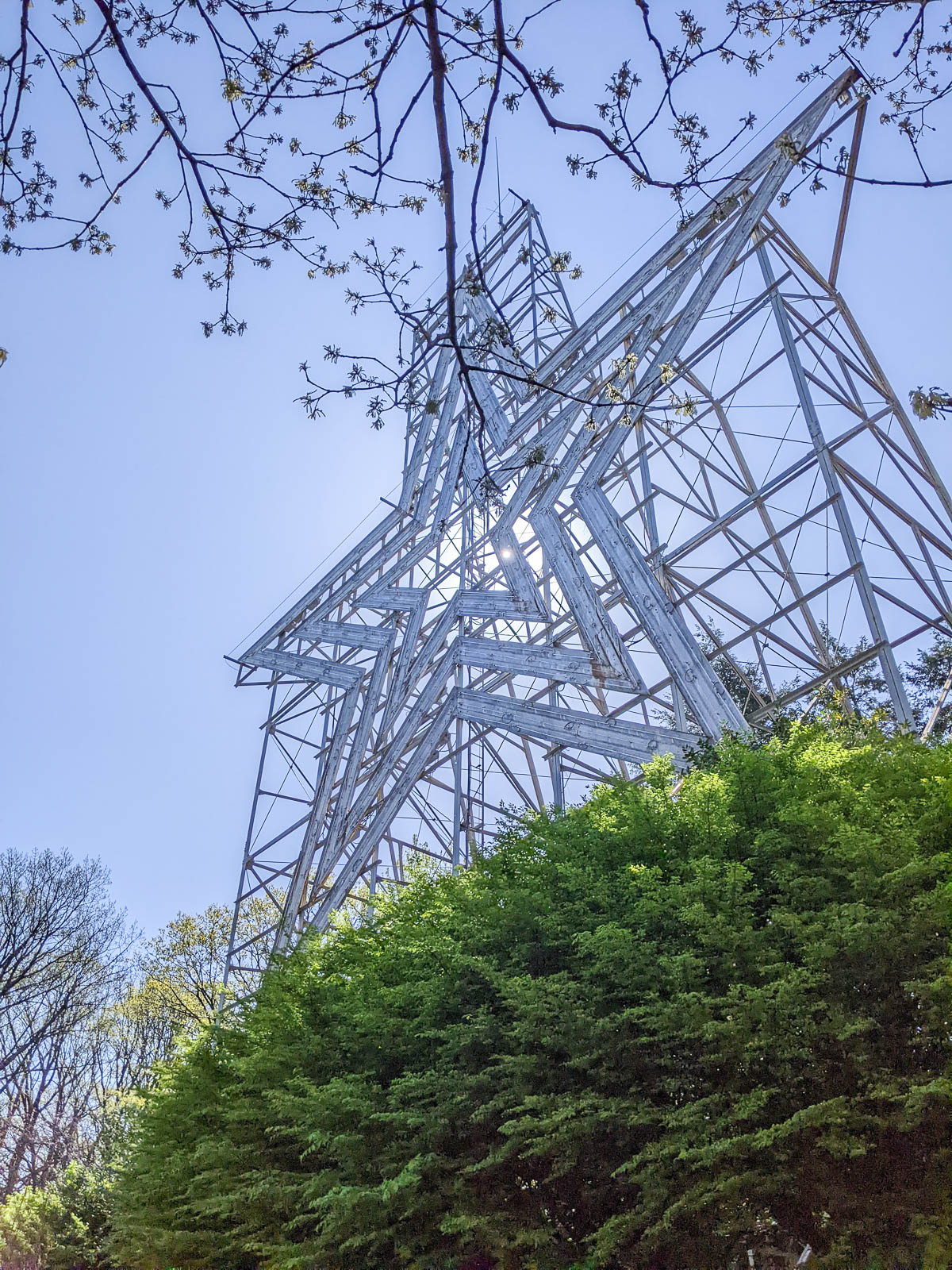 The star was built in 1949 and its illuminated every night with 2000 ft of neon lights. The star can be seen from all around the city and it's what gives Roanoke it's nickname, the Star City.
But what makes a trip up to the star really worthwhile is the amazing view of the surrounding valley.
At the base of the star is a viewing platform with a wide open view of the Roanoke valley including downtown Roanoke as well as the surrounding mountains. It's a beautiful view during the day and it's even more beautiful when everything is lit up at night.
There is also a small zoo at the top of Mill Mountain, right behind the star. This is not a big, fancy zoo by any means, but it is a charming spot to spend some time with animals in a small, beautiful setting.
The Blue Ridge Parkway and Explore Park
The Mill Mountain Star is only a few minutes away from the Blue Ridge Parkway. If you are looking for somewhere to take a beautiful scenic drive, the parkway is the perfect place.
The Blue Ridge Parkway is a gorgeous scenic drive through the mountains operated by the National Park Service that connects Shenandoah National Park in Virginia with Great Smokies National Park in North Carolina.
The Parkway has lots of beautiful overlooks, trails, and places to stop for great views and a breath of fresh air.
Just a few minutes away along the Blue Ridge Parkway is Explore Park. Explore Park is a great spot for camping, outdoor adventure, or just exploring for an afternoon.
The centerpiece of Explore Park is a collection of historic buildings from the 1700s and 1800s that have been moved from other places throughout the surrounding area and gathered in one spot.
You can't go inside the buildings these days, but there is still plenty to see and there is a great loop trail through a pretty meadow that takes you around to each of them.
There are also picnic tables in the area if you want to bring your lunch.
If you are up for a bit more adventure, you can go tubing on the river, explore the mountain biking trails, or check out the ropes courses and obstacles at Treetop Quest. There are also two excellent campgrounds at Explore Park where you can stay in a yurt or tiny cabin or camp in your own tent or RV.
And while you're there, you can stop in for a burger and a drink at Twin Creeks Brewpub. It's housed inside the historic eighteenth century Brugh Tavern and is a great place to enjoy a meal outdoors next to a firepit.
Read More – Exploring Peaks of Otter: One of the Best Stops on the Blue Ridge Parkway
Black Dog Salvage
If you ever watched Salvage Dogs on DIY Network, you may have heard of Black Dog Salvage; it's the store where the stars of the show sell the amazing things they salvage. But even if you've never seen the show, Black Dog Salvage is a fun place to spend a few hours.
It's a huge marketplace filled with architectural salvage, interesting vintage finds, and unique handmade goods and you are guaranteed to discover lots of fun finds even if you aren't planning to buy anything.
Right down the street from Black Dog Salvage, there's a great spot to grab some lunch in the historic Grandin area. At the corner of Grandin Rd. and Memorial Ave. is a tiny shopping area with a few cute shops, a historic movie theater, and several great restaurants.
Grace's Place is a great place to grab a pizza, Scratch Biscuit makes amazing breakfast sandwiches, and Pops is an adorable little diner that sells all kinds of grilled cheese sandwiches along with local homemade ice cream.
Mill Mountain Theater and Grandin Theater
If you are looking for something to do at night, there are a few ways to catch a great show, concert, or movie. There are often big name concerts and events going on at the Roanoke Civic Center and Valley View Grande is the biggest movie theater with all the new releases.
But for a more unique experience, there are a few smaller theaters that I love.
Grandin Theater (in the cute neighborhood mentioned above) is a theater that first opened its doors in 1932. The building still drips with historic charm and the theater specializes in art house, independent, and foreign films in addition to more mainstream movies.
Mill Mountain Theater is a small local theater that puts on great plays and musicals. The theater is located in downtown Roanoke on the first floor of Center in the Square.
Go for a Hike
Roanoke is surrounded by beautiful mountains along with the Roanoke River and there are many ways to enjoy the outdoors.
If you are interested in checking out a hike in the area, we've put together a list of the 15 best hikes within an hour of Roanoke. It includes everything from easy nature walks to some of the most famous portions of the Appalachian Trail.
I recommend checking out the whole list to find the right hike for you, but a couple of our favorites are McAfee's Knob and Dragon's Tooth.
And if you think you might prefer to relax on the water instead, Carvin's Cove is a beautiful reservoir right in Roanoke County where you can rent kayaks and row boats.
The Greenway
If you're not sure you are up for a full hike, but you still want to enjoy the outdoors, Roanoke has an awesome Greenway system made up of multiple paved and unpaved trails throughout the area.
All together it's close to 400 miles including Carvins Cove, Mill Mountain, and Explore Park.
The Greenway is great for both walking and biking. If you don't have your bike with you, you can rent one right next to the Greenway at Roanoke Mountain Adventures.
Our favorite section of the Greenway runs from Wasena Park toward Mill Mountain. This sections follows right beside the Roanoke River and passes by several playground where kids can stop to play.
You'll also walk right by Hang 10, a great spot to grab an authentic Hawaiian shaved ice, and further on you'll come to Blue Cow Ice Cream, which serves amazing handmade ice cream in unique flavors. And you'll pass right by The Green Goat, which is a great spot to stop and grab a meal.
Read More – Kayaking on the James River with Twin River Outfitters
How to Spend One Day in Roanoke
There are more than enough things to do in the area to fill several weekends, especially if you like to hike, but one day is enough to hit the highlights.
If I had only one day to spend in Roanoke, I would spend most of my time downtown. Start with a yummy breakfast at On the Rise or Scrambled. Stroll through the farmer's market and visit any shops that look interesting.
Visit the Taubman or one of the museums at Center in the Square. Enjoy a delicious lunch at one of the restaurants near the old Market Building.
Then drive up to Mill Mountain Star and take in the view. In the afternoon, you could browse at Black Dog Salvage or do a short hike at Explore Park.
Then enjoy dinner and take in a show at Mill Mountain Theater or Grandin Theater. Or relax at one of the local breweries instead.
Roanoke is a great place to just start exploring and see where the day takes you.